Where the four seasons are dramatically staged
Open since October 26 1993
Celebrating our 30th year in 2023
Kakurezato Kurumaya
ABOUT
Where the four seasons are dramatically staged.
On a hill embraced by tranquil woods, in perfect harmony with nature and its four seasons,
Stands a simple yet elegant Japanese Sukiya-zukuri architecture in the midst of a lake with a garden.
The Garden Rankings of Japan for the 2022 fiscal year has been announced by the Shiosai Project.
Kakurezato Kurumaya was selected as 8th place (9th in 2020, 7th in 2021).
We serve Kaiseki Cuisine with each dish is a delicate balancing act of flavor, texture and color.
Every aspect is considered in detail, including the tableware each course is served on.
Kaiseki is just as much a feast for the eyes as the taste buds and is a culinary experience unlike anything else.
Vegetarian and Pescatarian menu are also available.
MENU
Kakurezato Gozen(Short Course) ¥6,600 Shunka Zen Lunch ¥7,700
Yuki Kaiseki Course ¥9,900 Tsuki Course ¥14,300 Hana Course ¥19,800 Aoi Course ¥26,400
Wagyu Beef Steak Zen (short course) ¥14,300
Bento Box for Children (pls reserve) ¥3,850
- Kakurezato Gozen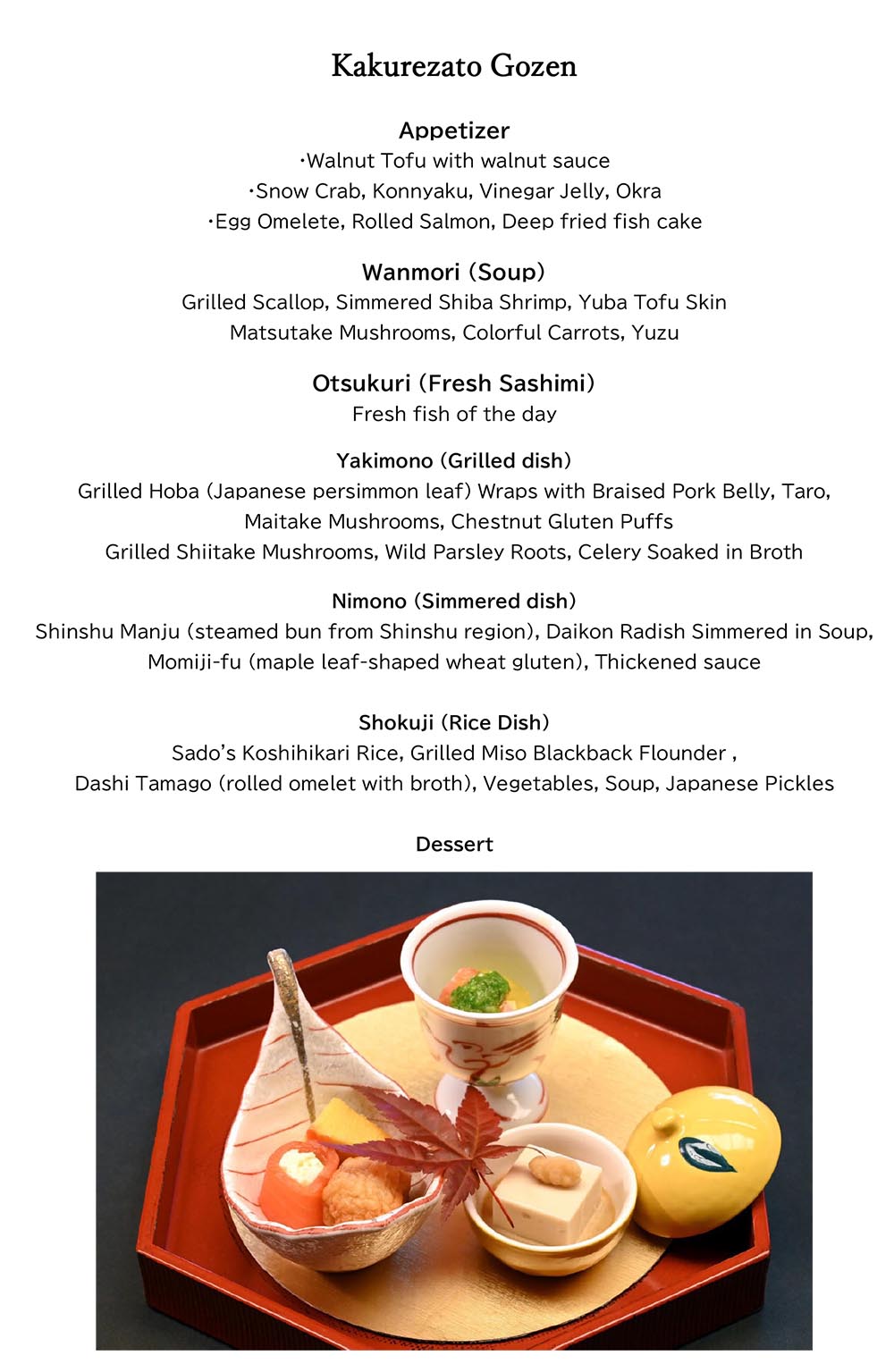 - Yuki (Snow) Kaiseki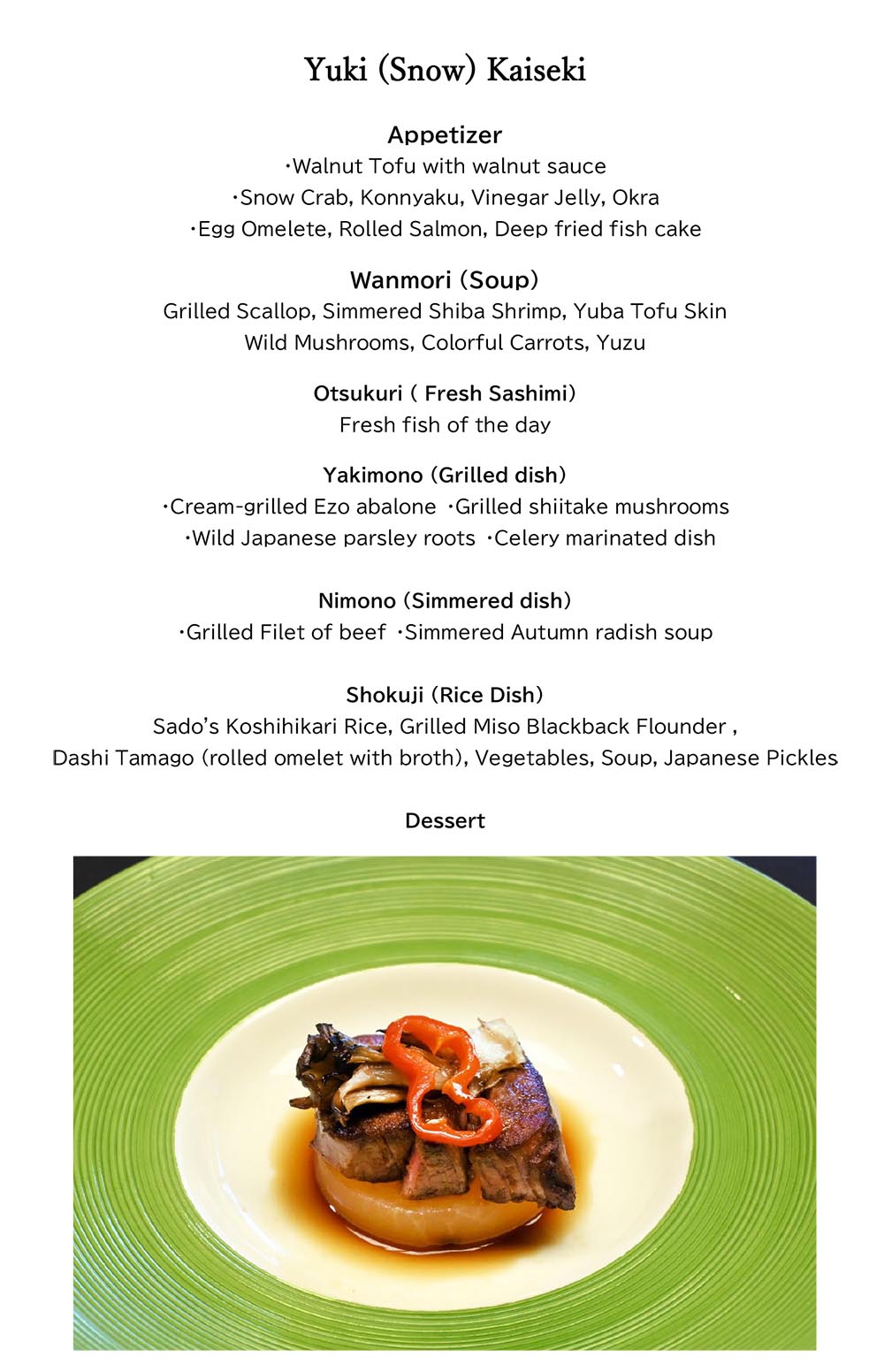 While looking over the garden,


Experience the delicate flavors and detailed plating of each poetic dish.
- ◆ Course Menu ◆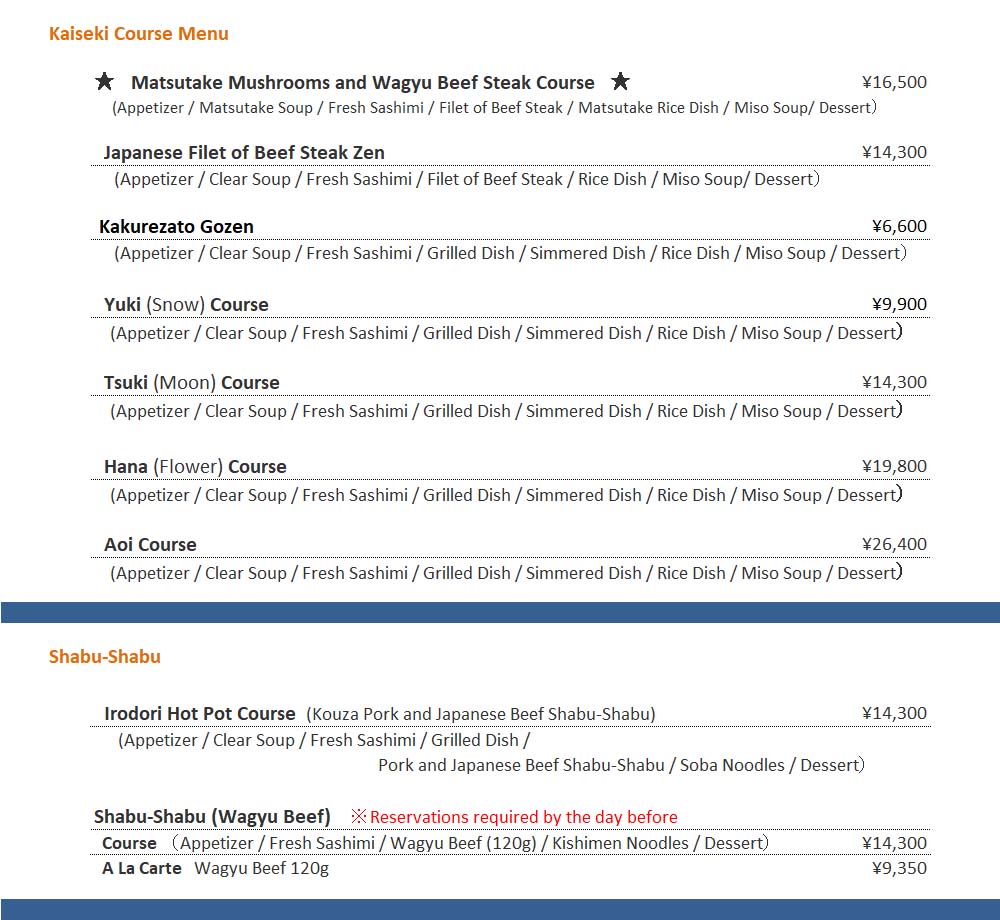 - Tsuki (Moon) Kaiseki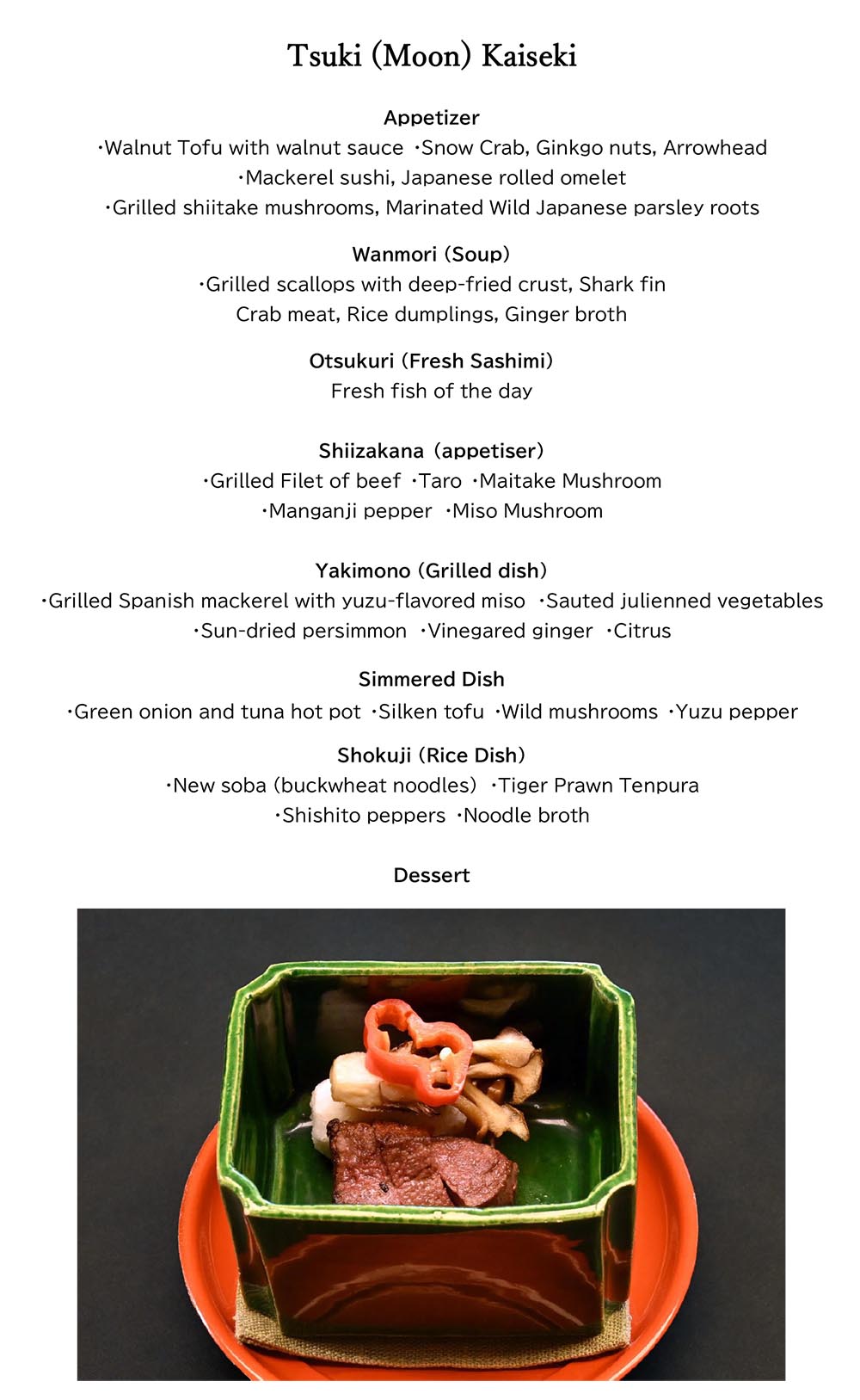 - Hana (Flower) Kaiseki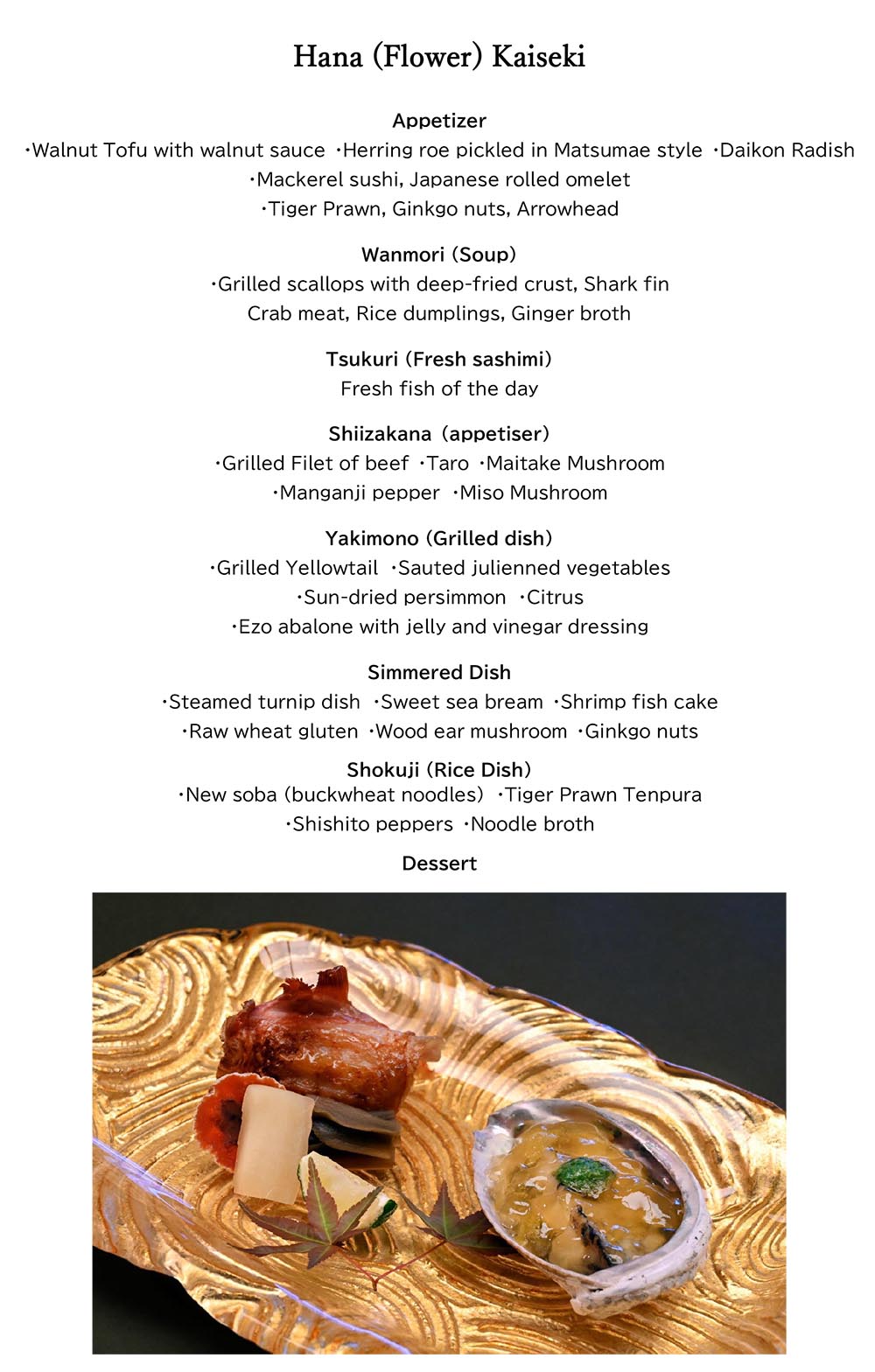 INFORMATION
〒251-0057 2-9-13 Jyonan Fujisawa-shi Kanagawa
TEL:0466-35-8111
・LUNCH 11:30~14:00 (weekdays)
・LUNCH 11:30~15:00
・DINNER 17:00~20:00 L.O.
・CLOSE 21:30
・CLOSED from Dec,30th ~ Jan. 1st